Archive for October, 2019
Tuesday, October 22nd, 2019
On 14th October around 100 pupils had the opportunity to experience a fantastic interactive live music concert by 'Lakeside Brass' brass quintet, arranged by Live Music Now. They were amazing!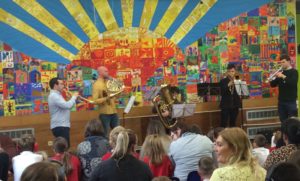 Posted in Latest | No Comments »
Tuesday, October 22nd, 2019
Please come and join us at one of our Coffee Mornings for parents/carers. Refreshments available.
7.11.19 at Thirsk Children's Centre Hambleton Early Help Service Hambleton Place, Thirsk
14.11.19 at Culture Shack, Bedale High School Site, Bedale
19.11.19 at Children & Families' Service, Ripon Youth Centre Clotherholme Road Ripon
4.12.19 at Bilton Children's Centre, Woodfield Road, Harrogate
We look forward to seeing you all there
Tracey Cunningham, Parent Liaison Support:
Posted in Latest | No Comments »
Friday, October 4th, 2019
Posted in Latest | No Comments »